As the war between Russia and Ukraine continues, the 6th package of sanctions to Russia has been introduced by the EU council on 3rd June 2022. The regulations put in force aim to cut oil imports from Russia by 90% by February 2023.
The EU sanction package includes the following key regulations:
Ban of sea transport of Russian Crude / Petroleum products to EU ports.
Ban of Insurance / Reinsurance services by EU companies related to the transport of Russian crude/petroleum products to third countries
Per wording of Article 3m of the regulation, from 4th June 2022:
It shall be prohibited to purchase, import, or transfer, directly or indirectly, crude oil or petroleum products, as listed in Annex XXV, if they originate in Russia or are exported from Russia.
It shall be prohibited to provide, directly or indirectly, technical assistance, brokering services, financing or financial assistance or any other services related to the prohibition in paragraph 1…
The Transport Ban
The seaborne EU imports of crude / petroleum products have now been prohibited, with a phase out period allowing for sport market transactions and execution of existing contracts to be completed by 5th December 2022 for crude oil, and by 5th February 2023 for refined oil products (i.e. permitted for 6 and 8 months of entry into force respectively).
The transport regulation however does not prohibit the transport of crude oil or petroleum products exported from Russia to a third country.
The Insurance Ban
Article 3n of the regulations provides that:
It shall be prohibited to provide, directly or indirectly, technical assistance, brokering services or financing or financial assistance, related to the transport, including through ship-to-ship transfers, to third countries of crude oil or petroleum products as listed in Annex XXV which originate in Russia, or which have been exported from Russia.
The prohibition in paragraph 1 shall not apply to:
(a) the execution until 5 December 2022 of contracts concluded before 4 June 2022, or of ancillary contracts necessary for the execution of such contracts; or
(b) the transport of crude oil or petroleum products as listed in Annex XXV where those goods originate in a third country and are only being loaded in, departing from, or transiting through Russia, provided that both the origin and the owner of those goods are non-Russian.
As a result, although Owners may be engaging in lawful transport of said products, an insurer subject to their jurisdiction (EU) will not be able to provide insurance for such trade.
The Next Months – Questions & Uncertainty
In 2021 alone the EU imported some €48 billion worth of crude oil and some €23 billion of refined oil products. With the embargo of these products coming into force, the EU is aiming to a large scale reduction of Russian revenue. Is this the result?? Latest news suggests the contrary
An important question is raised on how this will affect the EU countries that are most dependent on Russian oil imports. It is noted that a large number of EU countries rely more than 20% of total imports on Russian crude / refined oil products. Given the sanctions put in force, the cost of oil imported by EU countries is expected to rise, thus having direct impact to consumers.
Dependence On Russian Crude Oil & Products
Percent of total imports, monthly average, 2021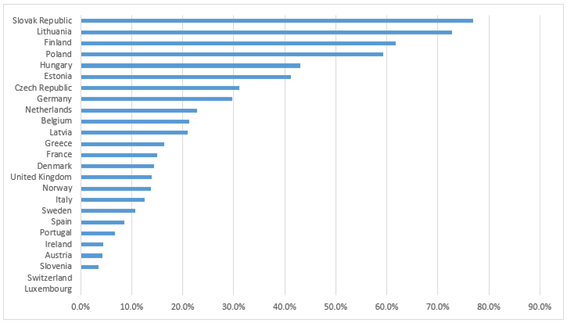 As far as prohibiting the transport and import of Russian oil products by the EU Member States, many shipowners expressed their reservations at first, arguing that the prohibition would only result to the products being diverted to third countries, and subsequently sold to the EU at higher prices, thus just "penalising ourselves" as Capital's Mr. Marinakis expressed during the Tradewinds Shipowners' Forum during Posidonia 2022.
With the insurance ban however, there is additional risk for Owners, as shipping of oil products from Russia with insurance or reinsurance provided by entities domiciled within the EU is prohibited (UK is expected to follow suit). This is expected to provide resistance to Russia's efforts to redirect crude / refined oil products to third countries outside the EU. In addition, it is expected that shipowners will show reluctancy to carry Russian oils whilst not being insured for such trades.
It is possible however, that insurance providers in Russia, China and India will step up to facilitate such trades, but the insurance ban is expected to be the most consequential move to restrict Russian oil exports to date.
In any event, since spot market transactions are excluded from the regulations for the initial phase in period, it is possible that Russian exports to Europe will see an increase in the coming 6-8 months, as refiners may try to increase their input – possibly at discounted rates – in order to build their inventories prior the trade becomes illegal.
In summary, there is potential to be found within the sanctions imposed, however it is not clear yet that this package of has or will accomplish the goal of the EU, i.e. to deprive a significant amount of revenue from Russia, while minimizing the cost to EU consumers and the global market.